Okay...so I am so sorry for the delay in posting of the big reveal. No excuse I have is good enough so I won't even bother. This is how it went down. We had a party at my mom & dad's house. She made four signs, one to put in each corner. Everyone was to pick their corner and stand under their sign. Then we had a very suspenseful elimination process. The signs were:
3 girls and a guy
3 dudes and a diva
4 little hairy bullies (Nick has been known as the big hairy bully!)
and 4 little princesses!
And the winning sign IS........

Nick was right all along! We are so excited about are new family! Coincidently, we already had 3 boy names and 2 girl names picked out. We are anxiously waiting to meet:

Sloan Olivia - Baby A the girl
Rocco Dean
Madden Jax
Jagger ???? (We are still working on a middle name for Jagger - have suggestions, email kamishea@gmail.com)
Here are some more pictures from the night (compliments of Chad Keith...thanks Chad...you are the best!) Thank you to all who came!
Our dads (Big Pop & Grandaddy)
The winning corner!
Karoline and Mike Holmes
my mom and me
As promised, I also have u/s pics from this week.

Baby Girl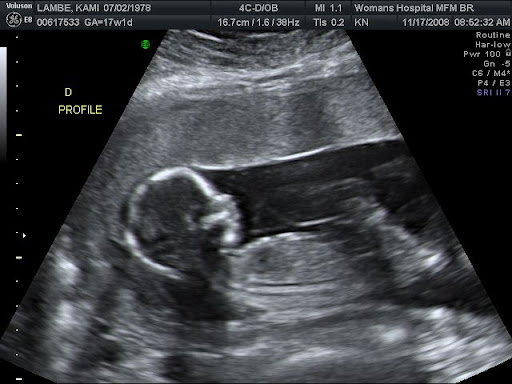 The boys!

This week will be a busy week for us. We are leaving for Phoenix on Sunday (11/30). My parents are driving - leaving on the 28th. Please pray for all of us while packing and traveling!
Kami